Spurs and their structured strive for success
The side should be destined for greatness under Pochettino, but will the financial structure limit their rise to the top?
Today marks seven years since Gareth Bale stormed in to stardom, the Tottenham winger scoring an emphatic hat trick at the San Siro and in turn giving the Brazilian right back Maicon a night he'll never forget. This game was significant for both player and club. Bale, for obvious reasons; the Welsh wing wizard had cemented his place as an integral part to the Spurs squad, offering then manager Harry Redknapp pace and power that he was yet to find in any of his numerous transfer dealing previous. Yet, it was equally important to Spurs as a club. The night in Milan projected the team in to the next tier of Europe's top clubs. It might sound strange saying that, as Spurs actually lost the game 4-3. However, their efforts could not be underestimated – this was the current Champions League holders playing on their own patch.
The rest of the story is well documented for both Spurs and Bale. Tottenham actually won the return fixture 3-1 at White Hart Lane and reached the last 16 of the tournament. They then ironically returned to the San Siro to face AC, and prevailed. The Galaticos of Real Madrid humbled Spurs in the quarter final but the team had left a lasting impression – particularly their left winger. This was Tottenham's most successful European Cup campaign to date (not including UEFA cup), however there can be no doubts that they have come on leaps and bounds in the seven years following.
Most of this can be afforded to the introduction of Mauricio Pochettino, an eccentric Argentine who has taken his squad from the fringes of the Premier League's top boys and cemented them as genuine title contenders. Poch's team returned to the Bernabeu on Tuesday; last time out they were bowled over by attacking prowess of the Los Blancos in a 4-0 defeat. However, there was to be no repeat as meticulous tactics and discipline found Real Madrid playing on the back foot for large spells of the group stage tie. The 1-1 draw is nothing short of a fantastic result at the home of the continent's most dominant side, yet it is far from astonishing as Pochettino's team continues to show that they are one of the strongest squads in European football.
The manager's fluid system has proven to be one of the toughest for opposition to crack. Spurs boast the best defensive record in the league for the past two seasons. The Belgian defensive partnership of Jan Vertoghen and Toby Alderweireld proving crucial to the success of the side, with the heroics of captain Hugo Lloris behind them in goal. Spurs have varied between a back three and four throughout Poch's time in charge, with the versatility of players such as Eric Dier, Danny Rose and previously Kyle Walker galvanising the attacking talent ahead of them. Wing backs are proving to become a popular species in Premier League football, with many teams adapting their shape off the back of the successes from Antonio Conte and Mauricio Pochettino. However it is the same wing backs in question that have raised concerns over the sustainability of Spurs prolonged success.
Under Pochettino, Spurs have gone from fifth to third to second, accumulating 64, then 70, then 86 points. That is clearly a project to look out for, something that's exciting. Yet, there are many question marks over whether Chairman Daniel Levy's strict budget will allow Spurs to continue to flourish at the top.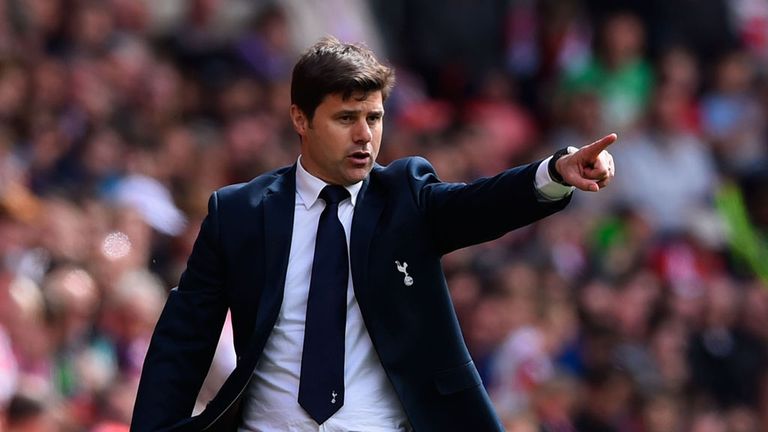 Tottenham have a clear vision to establish themselves in the top echelon of clubs in the country. Yet, they are likely to run in to a few issues if they persist with the current business model. To be fair to Levy, he has managed to build on this project in the last seven years whilst sticking money away for a shiny new stadium that will open in 2018. However, the exit of Kyle Walker and the public outburst from Danny Rose is telling.
For the past three years, the Spurs wage bill has been more or less flat, hovering around £100m. It is the sixth highest in the league, per the last set of financials. Arsenal have the fifth highest wage bill, and at £195m it is almost double Tottenham's. Although this makes Spurs' success even more impressive, it will be hard to replicate when the gap between club revenue and wage bill rising. Premier League players are well aware of this.
Despite the disappointment, Spurs have adequately replaced Walker with the £50m they received and the player cannot be criticized from his current position at the top of the league. The move made sense for Walker, who was hungry to win trophies during the peak of his career – and double his wage whilst doing so.
However, it is Spurs' contrast to the ever-impressive Manchester City which raises concerns amongst their support, especially as both teams are guided by elite level management. There are no doubts that Poch could compete with Pep at the top if he was also fueled by petrol-dollar investment, but Spurs instead run self-sufficiently. Levy, an astute businessman, has no plans to budge anytime soon.
In fairness to Spurs, Pochettino appears to genuinely be on the same wavelength as Levy regarding the structure. Moreover, the squad contains a great level of unity, with countless players agreeing to new contracts over the course of the last two years. The chairman consistently defends his structure, recently stating; "Our position on transfers is that we have a coach who very much believes in the academy, so unless we can find a player that makes a difference we would rather give one of our young academy players a chance. The academy is important because if we produce our own players we don't have to spend £20m or £30m on a player"
Levy's comments on this make sense, and they are admirable. However, if they want to fulfill the squads true potential, they will need to do all they can to keep aligned with the demands of their key players such as Dele Alli and Harry Kane. Both of these players are almost irreplaceable in the current side, and are arguably the two most exciting homegrown talents in recent years. However, their weekly wage just shy of £100,000 is no longer seen as mega-bucks in football's current market, and there are clubs who are willing to pay far more for their services.
It is Kane who is grabbing most of the current attention. The player electrifies the debate around Spurs' current model. He is a player they simply cannot afford to lose. Kane is a supreme talent who looks well on course to break goal scoring records for club and country. Last season's Premier League top scorer has bagged 11 in 11 so far this season and only three players have scored more this calendar year – none other than Robert Lewandoski, Lionel Messi and Cristiano Ronaldo. The boyhood Spurs fan has cemented himself as one of the most dangerous players in the league, if not the world, but his goal scoring exploits continue to fuel debate.
Is he world class? How long can he keep it up? Is he the man to lead England to glory? Does he do it in the big games?
There seems to be some sort of doubt over whether Kane is the real deal. He's way past that now.
At first, Kane was quashed as a one-season wonder – then a two season. After his third year with 20+ goals, there were concerns whether he could do it for England - with a record of 12 goals in 23 games he has silenced his critics. He is in line to lead the Three Lions out in Russia next summer, yet many British football fans struggle to place him in the superstar status he deserves.
It could possibly be that he was never a highly tipped 'wonderkid' throughout his junior years at Tottenham. Kane went about his business in quiet and clinical fashion as he climbed through the Spurs ranks. After numerous loan spells he finally got his crack at the whip in 2014 and has not looked back since. If we compare Harry Kane to other English talents such as Wayne Rooney, Theo Walcott or more recently Raheem Sterling, there seems to be a different perception attached to their route to the top. The three players mentioned were tipped for greatness, receiving attention from the media and fans alike. Whilst they were breaking in to the team at a young age, hype was so inevitably placed around their potential. But Kane was never identified as the next-best thing and his entrance on to the big stage was seen as more as a surprise. There was more talk of 'how long can he keep it up?' rather than 'what can this young player do?'.
Now 24, Kane is the first Englishman on the Ballon D'Or shortlist since Wayne Rooney in 2010. The world is his oyster.
Kane owes his accelerated development to his manager, and is hungry for success. He recently told Thierry Henry in a Sky Sports interview that he would be disappointed if he failed to win the Premier League in the coming years with Tottenham, but believes it remains possible with the current crop of talent and expertise. Pochettino recollects that Kane was a frustrated player when he first arrived, stating that he struggled to visualise his future at the club, with two or three strikers ahead of him. The manager admitting; "It was doubly exasperating for him as a Tottenham fan."
The two enjoy a fruitful relationship, and Kane, at only 24, leads by example with his team mates. "He's the first to arrive and the last to leave. He enjoys training, he prolongs his sessions and he studies elite players - past and present. I WhatsApp him videos of goals or interesting pieces of play by other strikers" says Pochettino. Kane is a model professional and for British football's sake it would be great to see him taste triumph.
Spurs need to do all they can to keep hold of Kane, Alli, Pochettino and co. It is a project that is admirable yet unrealistic if they are to balance top performances domestically and on the continent.
Published by Lewis McKenzie